Spring is approaching, which means changing weather patterns and storms that may turn severe. When preparing for potential severe weather like tornadoes, thunderstorms, and flooding, the most important thing you can do is have a plan.
Ask yourself the following questions:
1. How will I receive emergency alerts and warnings?
2. What is my shelter plan?
3. What is my evacuation route?
4. What is my household or building communication plan?
Knowing these answers will help prepare you to face severe weather.
In addition to preparing and reviewing your severe weather plan, it is essential to have an emergency kit with items like water, food, a flashlight, a first aid kit, extra batteries, and basic tools. These items are beneficial to keep in your home and car in case of an emergency.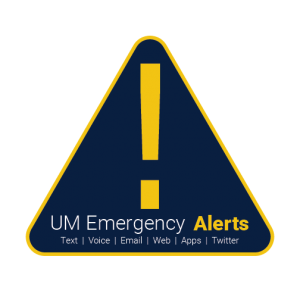 UM Emergency Alerts
Students, faculty, and staff are encouraged to visit alerts.umich.edu to verify, update, or add mobile numbers enrolled in the UM Emergency Alerts system. UM Emergency Alerts are urgent, mass notifications that keep students, faculty, and staff informed about major active emergencies on campus.
What types of weather will prompt an Emergency Alert?
Tornado Warning
Severe Thunderstorm Warning with winds expected to exceed 75 mph
Severe Thunderstorm Warning with baseball size hail predicted
What to do if there's a tornado warning
If there's a tornado warning, please take the following precautions:
Immediately seek safe shelter within internal hallways, rooms, or stairwells on the lowest floor
Avoid being near windows
Monitor local weather via radio, internet, or TV to stay informed
Remain in a sheltered area until the tornado warning expires

If a warning is extended past the initial time, an emergency alert will be issued with the updated information
Upon exiting your shelter, stay away from downed power lines, gas line breaks, broken glass, or any other potentially sharp or dangerous objects
Avoid entering any damaged buildings or structures, even after the tornado has passed
For more information, please visit our severe weather safety tips page.