Have you met Nico yet? You may have noticed a furry new addition to the University of Michigan Division of Public Safety and Security's (DPSS) Community Engagement Team!

This new therapy dog program aims to provide engagement opportunities with our campus community and emotional support for anybody having a stressful experience.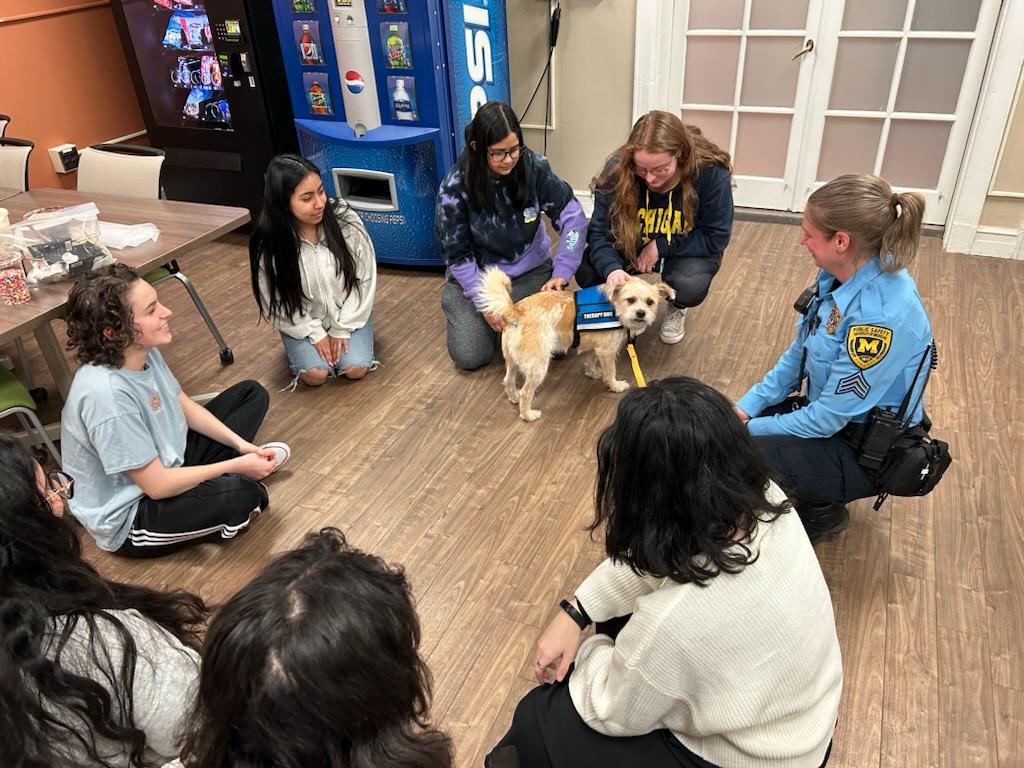 For students, the transition from a structured home life to the freedom of campus has long been considered one of the most stressful events in a student's life. "I think a therapy dog is awesome because college is stressful, and having a little guy to cuddle helps you focus on other things," says Emma, a South Quad resident. DPSS is always looking for ways to support our campus community and create a safe and welcoming environment.
About Nico
'Nico' means 'victory for the people,' so it's fitting that he's supporting the Victors in Ann Arbor. As part of his job, he is happy making friends, being pet, and has excellent manners as he goes to work with his best friend, DPSS Security Sergeant AnnMarie Vaquera.
What is a therapy dog?
A study by the National Institute of Health indicates interacting with a dog can reduce feelings of sadness and anxiety and is an effective way to enhance and sustain student psychological well-being. Therapy dogs are chosen because of their calm demeanor and are specially trained to help people who have experienced trauma. The dog's calm, friendly presence helps reduce stress while providing unconditional love and support to people during challenging times.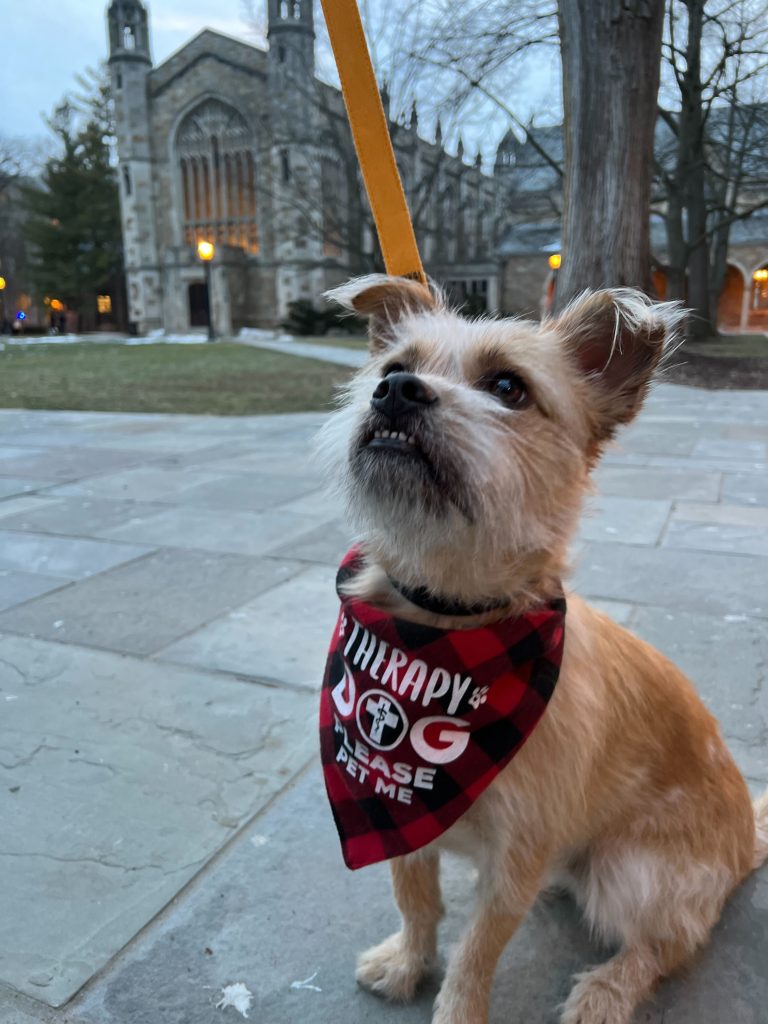 AnnMarie and Nico are on the DPSS Community Engagement Team and serve as the DPSS Liaison to Student Life. "Nico lives at home with me, my husband, and our eight-year-old black labrador retriever," AnnMarie says. "When he's not making friends with students on campus, Nico loves running around our backyard and playing tug-of-war with his labrador brother."
It takes a lot of work to be a therapy dog! In addition to the 12-week AKC Canine Good Citizen course, Nico is a graduate of a therapy dog training program specifically for public safety first responders. Nico was a natural at learning how to be comfortable in all kinds of situations. He practiced riding elevators, staying collected around different dogs, navigating crowds, and getting hugs from many people. There were also 40 hours of specialized training with AnnMarie to be a nationally registered therapy dog team. "Part of my training involved learning how to 'speak Nico' so we can communicate as a team," said AnnMarie. "The training covered things like how to read the room and recognize who's probably interested in a therapy dog visit and who would rather pass. I also learned how to work with Nico when somebody needs support for an emotional or difficult conversation."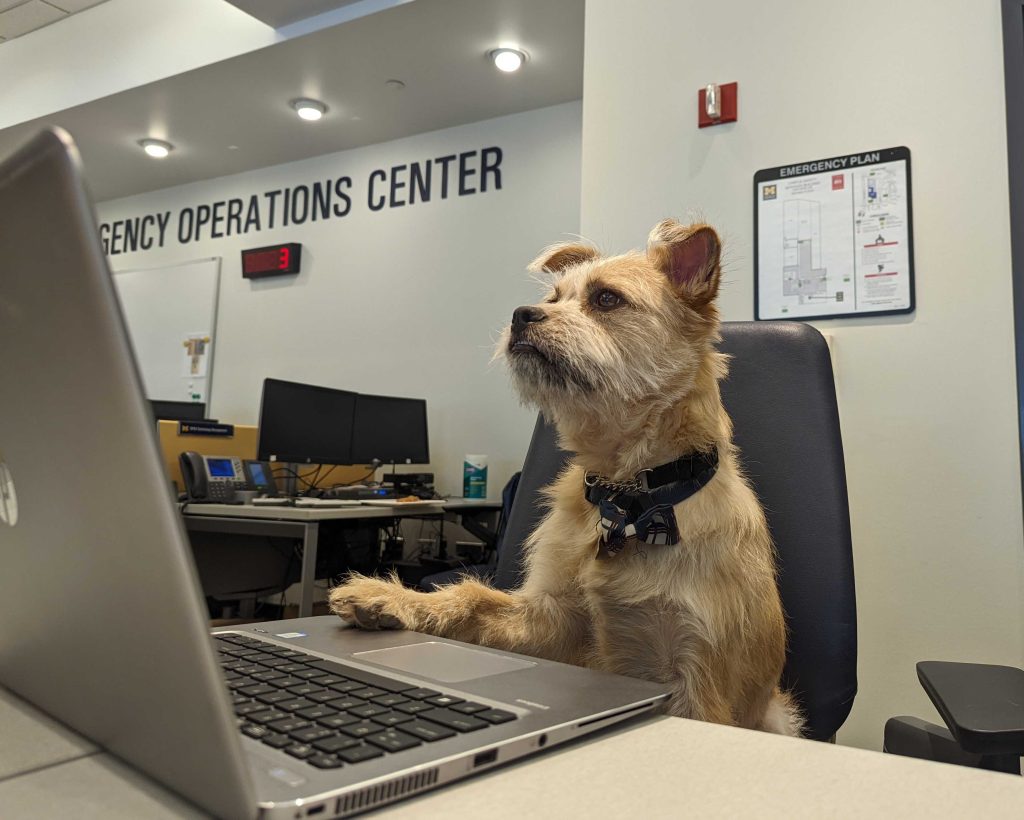 The Mystery Behind Nico
As with many rescue dogs, Nico's breed was a mystery. Everybody had a guess! AnnMarie and Nico took it upon themselves to submit a canine DNA test!

Where do you think Nico got his ears, fur, personality, and smile? Take a guess and win a visit from Nico and a DPSS "swag bag!" We'll reveal Nico's dog ancestry and contest winners on our social media by Wednesday, April 12.
Would you like Nico to be a special guest at your next U-M campus event? Complete a request form!