Michigan Medicine Security Lieutenant Ryan Reddig was only 23 years old when he was first diagnosed with a brain tumor.
"I remember that I was battling headaches and dizziness for several months," Ryan said.
Doctors diagnosed him with tension headaches, migraines, and cluster headaches and prescribed medications, but they were not helping his symptoms.
This was back in 2009 when Ryan worked as a supervisor at Circuit City while attending Wayne State University to earn his degree in criminal justice.
"One day while hanging the Circuit City store sign, I nearly blacked out at the top of a 30-foot ladder," he said.
That's when he knew something was not right, and his mother convinced him to see another doctor who sent him for a CAT scan. The image showed a large mass in his cerebellum. It was later diagnosed as a benign hemangioblastoma, an uncommon, slow-growing tumor of the central nervous system.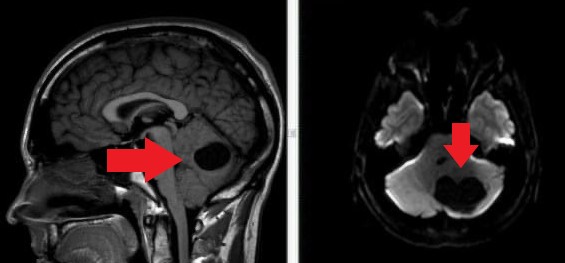 "I'll never forget having to call my mother to tell her the news," he said.
However, there was not much time to contemplate the gravity of his circumstances. His doctor at Michigan Medicine wanted him to undergo brain surgery immediately.
Ryan underwent his surgery at Michigan Medicine, and the tumor was successfully removed.
"I have a gnarly scar on the back of my head, and I'm bald, so I get a lot of questions, but I also observe and notice those same scars on others," said Ryan.
Round Two
In the years following the surgery, Ryan got married and began working at Michigan Medicine as a security officer.
Working for DPSS at Michigan Medicine allowed Ryan to go "full circle." "Because of my experience, I can relate with patients and what they may be going through and offer support to those in need," he said.
In November of 2014, as Ryan and his wife were eagerly expecting their first child, he learned that his brain tumor had returned. Faced with a difficult decision, Ryan delayed his second brain surgery until March of 2015, after the birth of his son. Ryan wanted to be sure to experience being a dad.
"There are no guarantees with brain surgery," said Ryan. "The experience was so much more difficult and stressful the second time; not only was there more time to contemplate but there was also more on the line with a wife and child on the way," he said.
He recognizes how lucky he was to have a strong support system in his mom, three sisters, and his wife throughout all of it. Ryan was and still is so grateful for this support.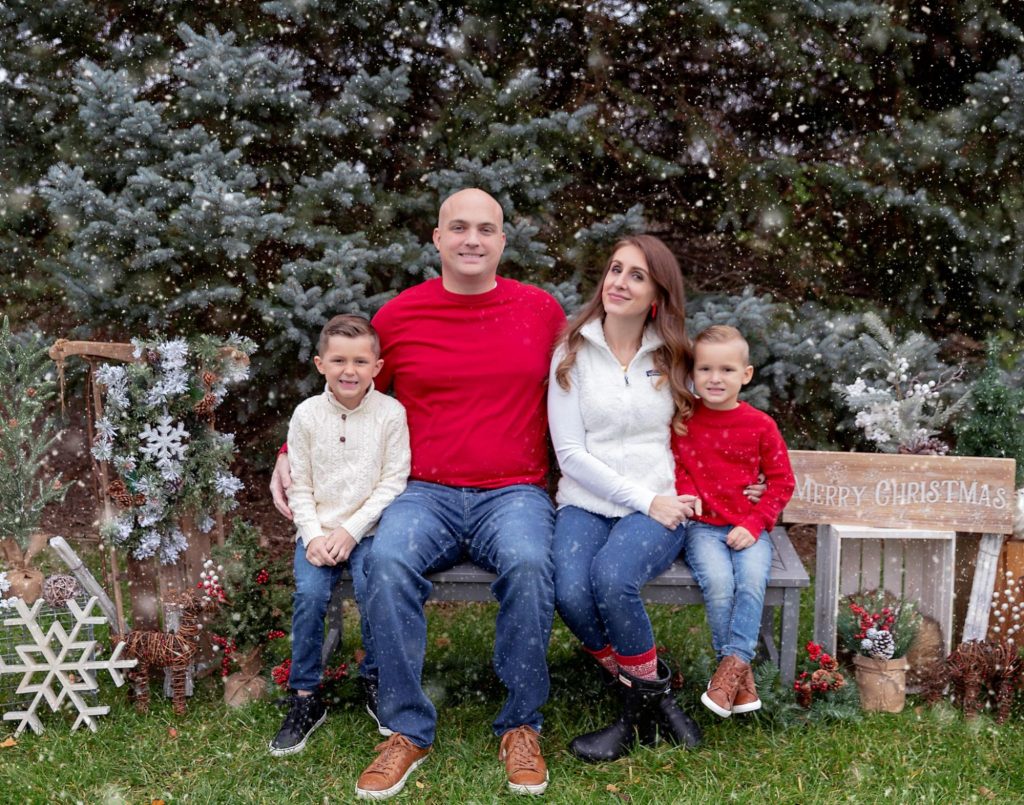 "I can't express how important it is to have someone to talk to," he said. He advises anyone who is facing an illness to seek help, whether it be a therapist, family member, or another trusted person.
Ryan often shares his survival story with others.
"There is value in your story and sharing it with others for awareness and discussion while lending a listening ear to someone that is going through something similar," Ryan said.
Ryan's selfless act of sharing his story turned out to have a major impact on another staff member's life.
Opportunity to Help Others
As soon as Michigan Medicine Security Officer Erin Kaltz found out she had a brain tumor, she reached out to Ryan, knowing that he had been through brain surgery.
Acknowledging the importance of support and having someone to talk to, Ryan found it extremely important to offer his support to Erin when she found out about her brain tumor.
In contrast to Ryan's experience, Erin's symptoms came on very suddenly. Erin started experiencing symptoms on a Friday towards the end of her 6 p.m. to 6 a.m. shift at Michigan Medicine. She thought she was coming down with a cold at first because she was feeling hot, then cold and somewhat chilled and in discomfort. By Saturday, she started to see fog and feel like she was in a fog with an extremely intense headache. She took medication and thought she could finish working, but the pain kept increasing.
This was during the height of the COVID-19 pandemic, so her doctor told Erin to take a test, thinking she may have contracted the virus. Erin's test was negative, but her doctor was convinced COVID was the most likely diagnosis. The doctor advised her to be retested. Again, Erin's test was negative and she disagreed with the doctor to retest. Erin called another doctor for a second opinion.
Erin felt something was not right.
"Somebody had Thor's hammer and was hitting the base of my head and neck on the bottom left side," said Erin. She went to the emergency room thinking she might have a migraine or meningitis. When asked, she agreed to have a CT scan.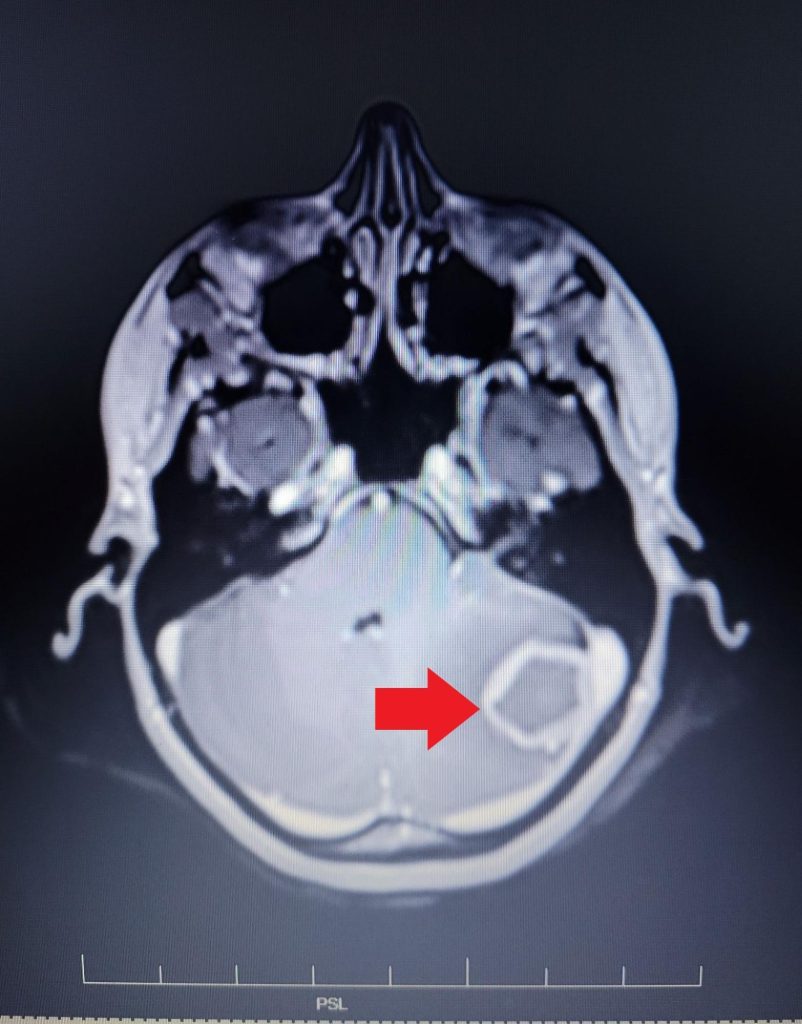 The results showed a golf ball-sized tumor in Erin's brain on the bottom left side of her cerebellum behind her left ear. The doctor recommended surgery right away, but a delay of over a week was needed to ensure the medication Erin took for the headache was out of her system. Not knowing if the tumor was cancerous until the removal, Erin used this time to get her affairs in order, as things were happening at a rapid pace. Erin's symptoms started on late Friday, January 1, 2021. She was diagnosed on January 5, and the tumor was removed on January 21. Erin's tumor was benign, but she needed to undergo radiation to help ensure that it would not grow back.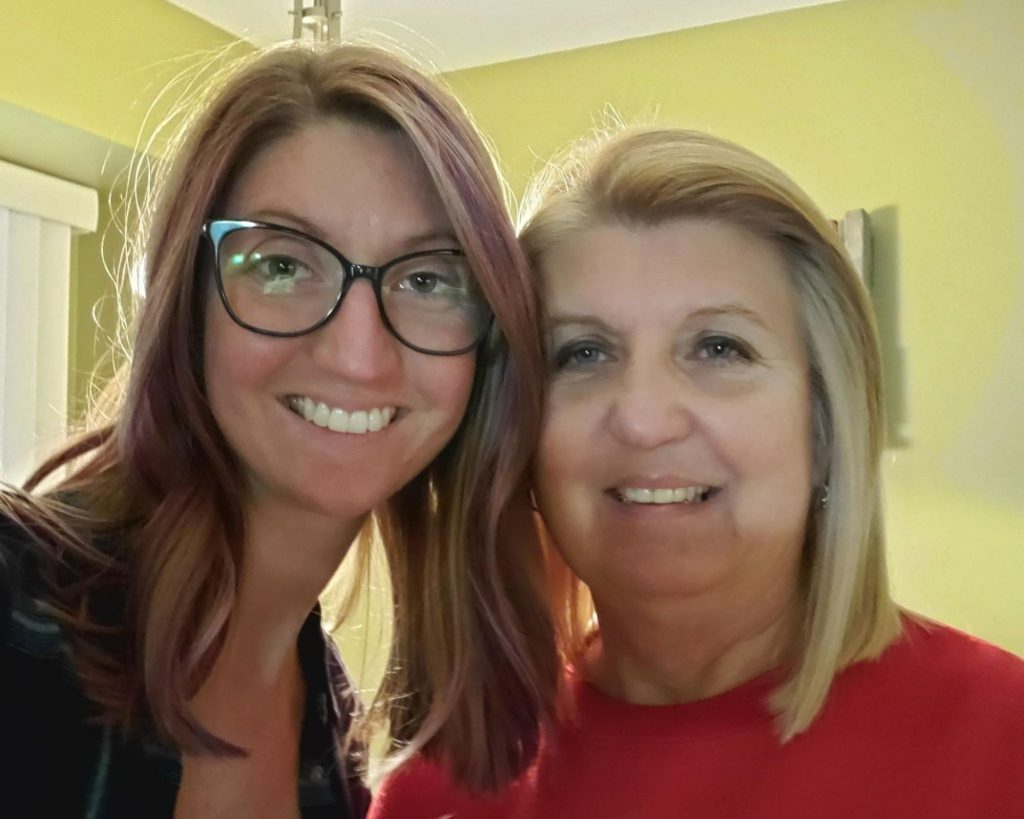 Erin could not have any visitors due to restrictions resulting from the pandemic. Erin relied heavily on her Michigan Medicine work family for support. Erin's mom had to stay in the waiting room for eight hours while Erin was in surgery; however, Erin's DPSS coworkers were checking in with her mom and tried to keep her distracted with walks and her favorite snacks.
"I'm very fortunate for the circumstances of having a work family at U-M and a best friend that used to work in neurosurgery," Erin said.
After the surgery, Erin was admitted to the fourth floor, which coincidently is the same floor where she would go on to serve as the community outreach officer.
"What are the odds?" she said.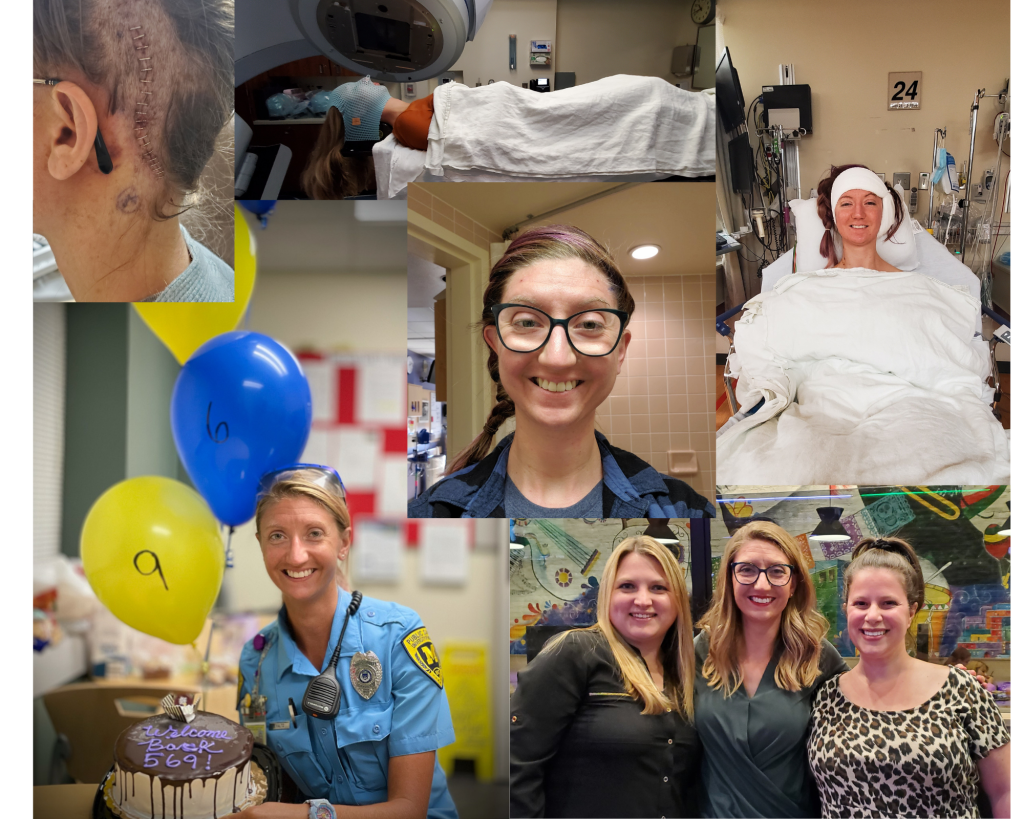 The impact
Erin says that her experience makes it easier to work with patients in finding a way to meet their needs. "When patients are going through hard times, I can really empathize," she said.
Both Ryan and Erin agree that empathy and compassion toward patients, their families, and visitors have taken on a whole new depth since fighting their own battles with brain tumors.
In addition, they are also so grateful for their Michigan Medicine healthcare teams as well as their family and coworkers.
"I see my surgeon around; he and his wife go to football games. I always say 'thank you' to that guy; he saved my life twice," said Ryan.
It's common and reasonable to feel powerless against diseases, especially a brain tumor. However, Ryan and Erin are determined to create something positive out of their experiences by sharing their stories. Sharing their experiences has allowed them to take back the power and help others who may be going through something similar.
There is no "end" to this battle for Ryan and Erin. They will be returning for check-ups all their lives. Both Ryan and Erin stressed the importance of self-awareness and paying attention to any sign or symptom that might point to something not being right. They also want to encourage others to ask questions and go for second opinions when it comes to their health and well-being.
Lastly, Ryan shared the importance of supporting in any way you can. Support may be given by running a 5k, providing a monetary gift, or raising awareness by sharing stories like this. Ryan's favorite organizations are the National Brain Tumor Society and the ChadTough Defeat DIPG Foundation.
May is Brain Tumor Awareness Month (BTAM). Organized by the National Brain Tumor Society, they ask people to "Go Gray in May" by taking action, raising awareness, or making a gift to support the brain tumor community.
Thank you, Ryan and Erin, for sharing your story and offering support to each other and our U-M community!