The Division of Public Safety and Security is excited to welcome students to campus for another safe, successful year at the University of Michigan! As you get settled in, we have a few tips and reminders for you.
Be Smart!
Save our contact information in your phone
We're here 24/7 to make sure you feel safe. Add our contact information to the favorites list on your phone so you can contact us quickly if you need help.
Download

our contact card

Enter our contact information manually: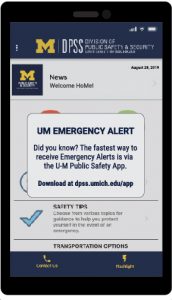 Make sure you can receive UM Emergency Alerts
If there were an emergency on campus, how would you know? The quickest way to receive a UM Emergency Alert is via the U-M Public Safety app, available in the App Store and Google Play. In addition to being the fastest way to receive UM Emergency Alerts, the app allows you to:
Report a crime or suspicious activity

Request after-hours transport

Opt-in to receive crime alerts

View safety tips and DPSS news
Students, faculty and staff are automatically signed up to receive the alerts via email. You can also sign up for voice and text alerts on Wolverine Access. Find more information here.
Follow DPSS on social media
Follow DPSS on Twitter and like us on Facebook to stay up to date on campus safety and security information and tips throughout the year.
Register your laptop, personal electronics and bicycle
Laptops, personal electronics and bicycles are often targets for theft on campus. We recommend properly securing your belongings and never leaving items attended. As an additional safety measure, DPSS offers a free property registration program that assists in the recovery of items in the event they are stolen. We encourage all students to take advantage of this program.
Getting Around Campus
Ann Arbor offers a multitude of options for getting around the campus and the town. No matter how you choose to navigate to class or for a night out and about, keep these tips in mind:
[embedyt] https://www.youtube.com/watch?v=za7krZ37k2Q[/embedyt]
Say Something
Safety is everyone's responsibility. What can you do to help keep our campus community safe? If you see suspicious behavior, say something! More information on what to report and where to report it can be found here.
Remember, DPSS is here to help. Never hesitate to contact us if you are feeling unsafe. We also encourage you to say hello when you see us on campus, we love meeting our fellow Wolverines! Welcome home.