To help our students protect their property, the Division of Public Safety and Security is raffling off 200 bicycle U-Locks. To enter to win, students must register their bicycle between Thursday, Aug. 23, and Friday, Sept. 7.
You can register your bicycle here.
Our property registration program is an additional safety measure that deters theft and assists in the recovery of property in the event that it is stolen. 
Anyone with UMICH login credentials can register their bicycle. Other items that have a serial number such as laptops, cell phones, and other electronic devices can also be registered. Registration is free and there is no item limit. Upon registering, the bicycle or device owner will receive a postcard in the mail that includes a theft deterrent and registration sticker to be placed on the registered item.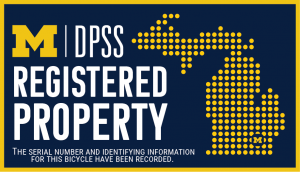 While bicycle registration can assist in the recovery of stolen property, DPSS recommends also using a U-Lock to secure bicycles and prevent theft. "Cable locks, while cheaper, are easy to cut through," said U-M Police Officer Deslatte. "U-locks are more secure than cable locks because they are often made with hardened steel and have a double-lock mechanism."
Know the right way to use your lock.

When locking your bike to a rack, secure it through the frame and at least one of the wheels. Visit the National Bike Registry for a more

comprehensive guide

to securely locking your bike.

Use a designated parking location.

If you plan on parking your bike on campus or anywhere else in public, use a designated parking location. Locking your bike to benches, garbage cans, railings or other objects may result in your bike being impounded.

Secure or remove expensive bike accessories.

When parking your bike, secure or remove accessories that otherwise might be stolen. This includes seats, bags, bottles, lights, etc.

Report suspicious behavior

. If you see suspicious behavior, such as someone with power tools or cable cutters near a bicycle rack,

report it

.
Go register and remember to Lock It or Lose It!