Our University of Michigan community has reported an increase in bike thefts.
During the last two months, more than 40 bicycle thefts were reported to the University of Michigan Police Department.
We are actively investigating these cases and asking the public to report any suspicious behavior observed around parked bicycles.
Most of the reported bike theft incidents on campus involved unlocked bikes or bikes secured with a lock that was easily cut through, such as a cable lock.
Help us prevent bike theft by investing in a hardened steel U-lock. This is the most effective way to secure your bicycle and deter theft.
It is also important to register your property with DPSS. This helps us identify your bicycle if stolen and assists in the recovery. 
If you do not have a U-lock, DPSS hosts property registration tabling sessions throughout campus, where you can receive a free U-lock with your bike registration.
Current Scheduled Sessions:
Alice Lloyd from 12 – 2 p.m. on Thursday, October 6, 2022
Couzens from 12 – 2 p.m. on Friday, October 7, 2022 
Follow DPSS on Facebook and Twitter to stay informed on future sessions and other important safety messages.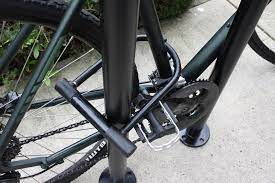 Once you have your U-lock, lock your bike properly to the rack by hooking the lock through the frame and at least one of the wheels. Visit the National Bike Registry for a more comprehensive guide to securely locking your bike.
We also advise securing or removing expensive accessories that might be stolen, such as seats, bags, bottles, or lights.
For more bicycle safety and security information, visit the safety tips section of our website. If you are a victim of bike theft or see any suspicious behavior, contact DPSS at (734) 763-1131 or report the crime online.