After eight years of dedicated service to the University of Michigan community, K9 Tank has retired to become a full-time member of the Dunny family.
From the start, Tank was a high-energy dog who excelled at everything he did. He began his training in January of 2014, he was certified in May and completed his first track two days later finding an armed suspect.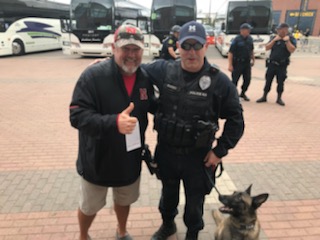 Tank and Nike were the first K9s to ever be certified by UMPD in "Police Controller," which is obedience agility. Over the years, Tank has done explosive detections for then-President Obama and Democratic candidate Hillary Clinton and other dignitaries that have visited the University or the State of Michigan. He's met many interesting people, such as Larry the Cable Guy.
Over the years, he has swept for hundreds of events and bomb threats that have been called in. On Thanksgiving Day 2018, he found an armed robbery home invasion suspect hiding on the back porch of a house. On Christmas Eve that same year, he tracked a missing woman and found her in Saline.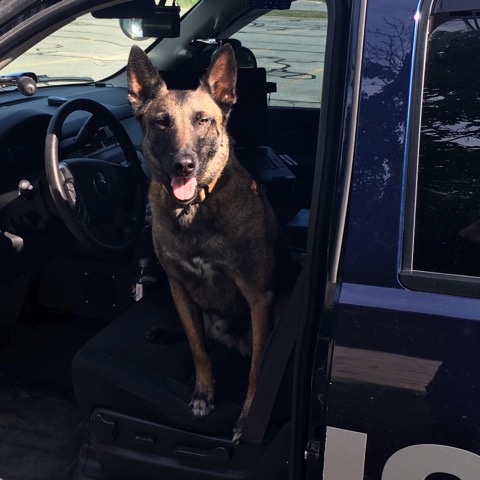 Tank has made many impressions on the community that will remain with those individuals for the rest of their lives. From a visiting Utah coach who unwittingly attempted to ride in the back of Tank's K9 vehicle to a patient who needed the comfort of a "Tank cuddle" before being admitted. Tank and his handler, Officer Dunny, have helped countless community members over the past 8+ years whether they were aware of it or not.
The first week of retirement, Tank wasn't sure why he was no longer going to work every morning with Officer Dunny. It took some getting used to, but he's well-adjusted now and gets plenty of treats, naps, and playtime.
Thank you, Tank, for keeping the community safe and bringing smiles to the faces of countless community members over the years. You will be missed. Enjoy your retirement!