The University of Michigan Police Department (UMPD) partnered with the Washtenaw County Sheriff's Office (WCSO) and other local law enforcement agencies on Sunday, Aug. 4, for the third-annual 'Shop with a Cop' back to school event to benefit patients at C.S. Mott Children's Hospital.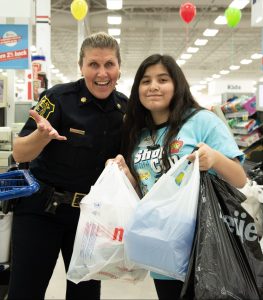 The day-long event paired 93 children and their families with officers to shop for back-to-school supplies, eat lunch, make crafts and spend time on the football field at Michigan Stadium. 
Jamie, a second-time Shop with a Cop participant who was paired with UMPD Deputy Chief, Melissa Overton, said her favorite part of the event is doing the back-to-school shopping. "They let me get whatever I need or want," Jamie said. She also noted that the event is a good opportunity to spend time with her siblings and family. 
Participants were bussed to the local Meijer where they were allotted $150 to spend on supplies, clothes, gift cards and any other necessities and provided with a Chromebook.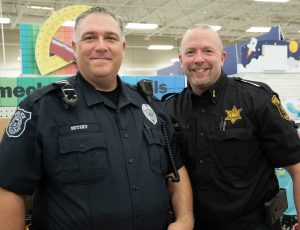 "We are thrilled at the participation and success of the third-annual Shop with a Cop back-to-school event," said UMPD Officer Matt Butzky. He and WCSO Lt. Keith Flores launched the back-to-school event in 2017 to give back to local children and families financially burdened by medical bills. 
"My favorite part of the event comes in the weeks and months that follow," said Butzky. "I look forward to the phone calls, letters, and emails from the participating families telling us how much Shop with a Cop meant to them, their favorite memories with our local law enforcement, and the impact it had on the children as they head back to school."
The event could not be a success without support from the following partners: C.S. Mott Community Relations, Mott Golf Classic, Michigan Medicine Social Work, Michigan Athletics, Meijer, U-M Logistics, Transportation, and Parking, the Ann Arbor Area Transportation Authority and W4 Country.
Donations for Shop with a Cop are accepted year-round. If you are interested in contributing, please visit the WCSO Shop with a Cop Facebook page and click "Shop Now."