DPSS is committed to your safety as our highest priority. Please help us maintain a safe and secure place for everyone. Consider these safety tips when traveling on campus, while out enjoying the Ann Arbor community or spending time in your residence.
Travel
Walk to and from your destination with a trusted friend, especially at night

If you must walk home alone, stay on a well-lit path and be aware of your surroundings

Utilize

late-night university transportation services

by calling 734-647-8000

Take a

university blue bus

or

AAATA's TheRide

to get you to your closer to your destination

Review

non-university rideshare safety tips

before utilizing rideshare services like Uber or Lyft

Call DPSS at 734-763-1131 if you find yourself alone and uncomfortable about a situation, we're here to help and can also assist with providing an escort
Residence Safety
Lock your doors when you leave and after you return home

Close blinds at night and keep door-wall security bars in place

House/Apartment-dwellers should turn on exterior lights at night

Have your keys in hand before you reach your vehicle or residence

Learn more about

securing your residence
Report Suspicious Behavior or Activity
If you witness suspicious behavior or activity that is out of place and does not fit the usual day-to-day activity of our campus community, report it to DPSS. You can report concerning behavior by calling 911 or the DPSS non-emergency line, (734) 763-1131.
Additional Resources Available from DPSS
Add DPSS Contact Info to Your Phone
You never know when you may need help. Add our contact info to the favorites on your phone, so you can contact us quickly. There are two options:
Enter manually

Emergencies: 911

Non-emergencies: (734) 763-1131 or text 377911

Email:

dpss-safety-security@umich.edu
Sign Up for an Empowerment Self-Defense Class
U-M students, faculty and staff are invited to take control of their personal safety by learning physical and verbal strategies to counter violence through our empowerment self-defense workshops.
The workshops aim to teach participants situational awareness and prevention skills to leave them better equipped to deal with everything from harassment to potentially violent people to sexual assault. Participants will take part in verbal exercises, physical drills and discussion.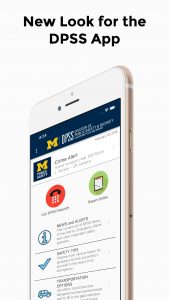 Download the U-M Public Safety App
Did you know that DPSS has an app? We recently launched version 2.0 of our U-M Public Safety app. Users can opt-in to receive push notifications for news/safety tips and crime alerts. Users will also receive a push notification in the event of an Emergency Alert. Download the app today (available for Apple and Android phones).
Follow DPSS on Social Media
Follow U-M DPSS on Twitter and Facebook to receive campus safety and security notifications and tips throughout the year. Keep an eye out for pop-up safety tips on the University of Michigan Instagram story.