On Nov. 1, 2018, at about 2:00 a.m. an armed robbery occurred on the Diag near West Hall Arch (intersection of South and East University Ave.).
A Boober Tours (bicycle taxi) driver was providing a ride to four individuals. They were overheard saying they had no money to pay for the ride. The driver stopped and suspect No.1 brandished a handgun. Money and a blanket were taken. The suspects fled north on the Diag
Please review the photos, security camera video and subject descriptions and help us identify the suspects.
Suspect(s):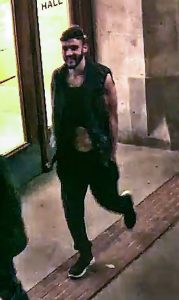 Suspect #1: White or light-skinned black male, between 18-21 years of age. Last seen wearing a Piston's hat, red zip-up sweater, green coat, torn acid-washed jeans and light brown boots.
Suspect #2: Black male, 18-21 years of age, short dreadlocks. Last seen wearing a red shirt with a toy bandoleer over left shoulder, black pants, light-colored shoes and a white baseball hat. The stolen leopard print blanket was draped over his shoulders.
Suspect #3: White male, 18-21 years of age, short dark hair, short beard. Last seen wearing a sleeveless brown coat, black tank top, black pants and black shoes with white soles and a wrestling belt.
Suspect #4: White male, 18-21 years of age, short beard. Last seen wearing a blue jacket with white zippers, beige baseball cap, dark colored jeans and white shoes.
If you have any information, please contact U-M Division of Public Safety and Security at (734) 763-1131 or the Confidential Tip Line 1-800-863-1355.