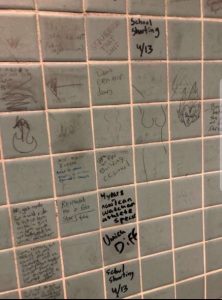 The University of Michigan Division of Public Safety and Security has been notified by students and staff about a single incident of graffiti with the message, "School Shooting 4/13," written on a bathroom stall in Mason Hall. We've included an image of the graffiti, which has since been removed from the wall.
Nothing leads us to believe this is a credible threat to the U-M community.
This situation has been reviewed carefully by DPSS in conjunction with local, state and federal law enforcement partners.
The U-M campus will be fully operational Friday and we remain committed to the safety and security of our community.
We value our partnership with our community and appreciate those who stepped forward to report this information. We all play a role in ensuring community safety. If you see something that shouldn't be there or someone's behavior doesn't seem quite right – say something.
If you have any information regarding this incident or additional concerns, please contact DPSS at 734-763-1131 or at dpss-safety-security@umich.edu.