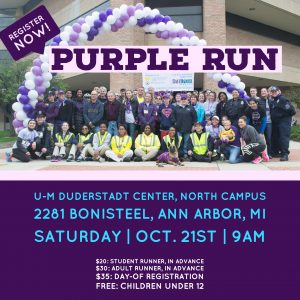 Sept. 27, 2017 – Domestic violence is an issue that can affect anyone—and the University of Michigan community is no exception. To highlight October as Domestic Violence Awareness Month and raise funds for the SafeHouse Center, the U-M Police Department (UMPD), in partnership with the Washtenaw County Prosecutor's Office, will host the third annual Purple Run, a 5k run/walk taking place Oct. 21 near the Duderstadt Center on U-M's North Campus.
"SafeHouse Center is such an invaluable resource for our community, providing free and confidential services to survivors of intimate partner violence and sexual assault throughout Washtenaw County," said U-M Police Chief Robert Neumann. "We want to do all we can to support their mission and ensure that survivors have a safe place to go."
According to the Centers for Disease Control, approximately one in four women (24.3%) and one in seven men (13.8%) have experienced severe physical violence by an intimate partner at some point in their lifetime.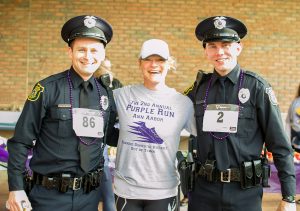 Officers with UMPD's Special Victims Unit, who are specially trained to help victims of intimate partner violence navigate the criminal justice system, will participate in the run. Additionally, the family-friendly event will have exhibits from HVA's Andy the Ambulance, the Washtenaw County Sheriff's Office Mounted Unit, law enforcement K9 units and live music by The Soul Practitioners.
"We are honored to have the support of our great community partners," Barbara Niess-May, executive director of SafeHouse Center said. "This collaboration helps bring awareness and also support for close to 5,000 survivors of sexual assault and domestic violence in our own community."
Chief Neumann added, "Not only does this event support a great cause, everyone has a good time in the process. We don't care if they walk or run—we just want to get as many folks as we can out for this fantastic event."
To register for the Purple Run, visit the website or sign up at the event—and help run domestic violence out of town!
.