Aug. 28, 2017 – The Division of Public Safety and Security is excited to welcome our students, new and returning, back to campus! As you get settled in, here are a few reminders and tips to help get you off to a good, safe start.
[embedyt] https://www.youtube.com/watch?v=iHf4C5jUFhk[/embedyt]
Add our Contact Info to Your Favorites
You never know when you may need help. Add our contact info. to the favorites list in your phone, so you can contact us quickly. Here are two options:
Enter manually:

Emergencies: 911
For non-emergencies: (734) 763-1131 or text 377911
Sign-up for UM Emergency Alerts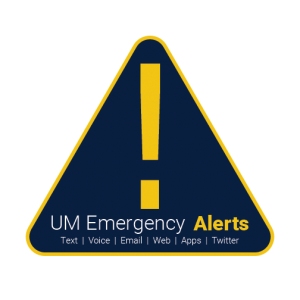 Be informed when there's an emergency on campus, sign-up for UM Emergency Alerts. If there's a major emergency, you will receive a text through the UM Emergency Alert system. Go to Wolverine Access and click on the UM Emergency Alerts link to register. Find more information here.
Follow DPSS on Twitter
Follow U-M DPSS on Twitter @umichdpss to receive campus safety and security notifications and tips throughout the year.
Register Your Laptop, Personal Electronics or Bicycle
Laptops, personal electronics and bicycles are often targets for theft. Remember to secure your belongings at all times. Don't leave laptops, phones, backpacks, wallets and other valuables unattended—not even for a minute. As an added deterrent, register your laptops, personal electronics and bicycles—it's quick and easy to do online. More details here.
Help Protect our Home
Everyone can, and should, contribute to the safety of our campus community. What can you do to help? If you see something, say something—promptly report crimes and suspicious behavior. Public safety is everyone's responsibility. Find out more information on what to report here.
Remember DPSS is here to help, please be sure to contact us. We wish you a successful and safe school year! Welcome HoMe!