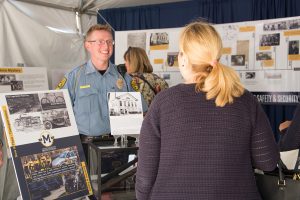 June 27, 2017 – The Division of Public Safety and Security (DPSS) honored the past, present and future of U-M safety and security at the long-anticipated MStaff200 gala. The day-long event celebrated U-M staff contributions and talent over the last 200 years and beyond. Taking place on Ingalls Mall and the Diag, the bicentennial celebration offered an abundance of food, music, activities and stories–and DPSS had plenty of its own stories and activities to share.
For the event's 1800s and 1900s tents, DPSS partnered with the Ann Arbor Police Department (AAPD) to exhibit several photos, vintage uniforms, bullet-proof vests, patches and other artifacts. Also on display were timelines and historical panels that featured interesting, and sometimes quirky, safety and security stories from the past.
"I was really tickled when I was asked to participate," said retired officer Pete Stipe, who volunteered in the 1900s tent. "I used to work the University detail for AAPD. People were really interested in the historical displays."
For the future tent display, DPSS partnered with the Michigan State Police (MSP) and DNA tech company ANDE to show some of the high tech tools used for evidence gathering and analysis. Several hands-on activities and demonstrations also were offered, including techniques for lifting fingerprints from different types of surfaces, using alternative light sources to reveal evidence that normally would be hidden to the naked eye and making footprint impressions.
The U-M Police Department (UMPD) K-9 Unit was another highlight, with police officer Susan Upton demonstrating K-9 Nike's special talents.
Several DPSS, AAPD and MSP vehicles, including cars, motorcycles, segways and bicycles, also were exhibited, including MSP's 100th anniversary patrol car. In addition, the DPSS Outreach Unit offered giveaways and information about present-day programs and presentations.
Web pages, including a timeline, will be created from the historical displays and added to the DPSS website to tell the history of U-M safety and security.