June 19, 2017 – Today the Ann Arbor Police Department announced that a 28-year-old man has been arrested, charged and arraigned on three counts of armed robbery in connection with three armed robberies near campus in January and February. Crime alerts #2017-1 and #2017-5 have been canceled.
A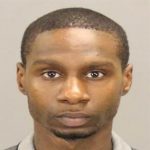 ccording to the Ann Arbor Police Department, Dominique Wilson, of Ypsilanti, has been charged with three counts of armed robbery by the Washtenaw County Prosecutor's office. All three counts are felonies that carry a life sentence.
This arrest stems from an on-going AAPD investigation into armed robberies of U-M students by a suspect armed with a handgun. Cash, credit cards and cell phones were taken in each robbery with none of the victims being injured. "It appears that money was the motive behind these violent crimes," said AAPD Detective Lt. Matt Lige.
Wilson was arrested on June 16 when he was spotted by an AAPD officer on Main Street. Wilson was taken into custody without incident. He was arraigned June 18 and bond was set at $50,000 cash. Wilson remains lodged at the Washtenaw County Jail.
Of the four off-campus armed robbery incidents that occurred during January-February 2017, one incident remains under investigation.