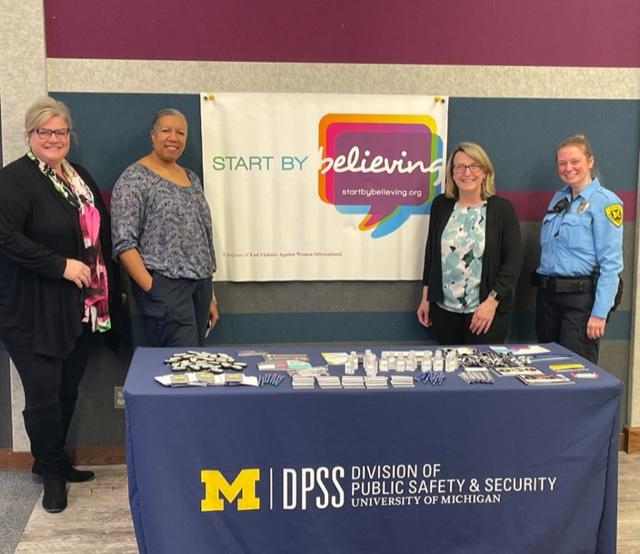 Throughout April, the University of Michigan's Division of Public Safety and Security (DPSS) Special Victims Unit is joining in several community events to raise awareness about sexual assault. The Special Victims Unit (SVU) is continually working to educate the community about interpersonal violence, reduce the stigma associated with reporting, and help survivors make informed decisions through trauma-informed, survivor-centered practices.
When somebody confides in another that they have been sexually assaulted, it is important for the survivor's well-being to be supported immediately. Even simple "why" questions can feel accusatory to a survivor or make them doubt themselves- and this can discourage them from seeking help, resources, or offender accountability. This is why DPSS supports the Start by Believing campaign, which helps community members learn how to support a survivor best so they can begin a journey to healing. DPSS has several trauma-informed meeting spaces at convenient locations around campus, where survivors can feel safe when sharing their experiences with SVU officers. Start by Believing is part of the SVU's Sexual Assault Commitment to treat every survivor with respect, sensitivity, and understanding.
Upcoming Events:
April 3rd-12th, Teal Ribbon Project – SVU team members will be working together with SafeHouse Center staff on April 3rd to place teal ribbons and sexual assault resource information cards around central campus.
April 5th, Start By Believing Day – We encourage all DPSS staff to participate by watching the video and taking the pledge. Encourage people to sign on to the campaign and support it on our Washtenaw County Start by Believing or DPSS Facebook and DPSS Twitter pages with a hashtag #startbybelieving
April 13th, Sexual Assault Awareness – SVU staff will be present to share resources with the Michigan Medicine community.

10:00 a.m. – 2:00 p.m. at the Michigan Medicine Towsley Triangle

April 26th, Denim Day – The Denim Day campaign is in response to a ruling by the Italian Supreme Court, where a rape conviction was overturned because the victim was wearing tight jeans. The following day, the women in the Italian Parliament came to work wearing jeans in solidarity with the victim. Wear jeans in support, and pick up your NO EXCUSES pin in one of 10 languages!

10:00 a.m. – 1:00 p.m. near Sweetwaters Cafe in the Michigan Union. Stop by to take a photo with DPSS' newest member – Therapy Dog Nico!
If your department or student organization wants a presentation on Responding to Sexual Assault or Empowerment Self-Defense, please complete a request form.
For more information on Sexual Assault or SVU, please visit our website.
If you or someone you know has been sexually assaulted, we recognize that reporting can be difficult. Our SVU officers work to ensure that survivors are treated with respect, sensitivity, and understanding. You can report an incident or contact our SVU by calling 734-763-1131.
If you are in immediate danger, dial 911