From campus to the Big House, the Leaders and Best have two four-legged friends working to keep them safe every day: Nike and Tank. Since 2002, the University of Michigan Police Department has used K-9s to enhance the safety and security of the U-M community. The current K-9s, Nike (6 years old) and Tank (7 years old), are Belgian Malinois and have five years of service at U-M with their handlers, Susan Upton and Joseph Dunny, respectively.
The many faces of the Police K-9
While German Shepherds have become the go-to visual of a police K-9, many other K-9 breeds serve in a law enforcement capacity, including, but not limited to, the Belgian Malinois, Bloodhound, Dutch Shepherd, Labrador Retriever, and German Short-Haired Pointer. Breed choice often comes down to the purpose of the K-9 and officer preference. Police K-9s typically require anywhere from six months to a year of training before they begin service as an officer and serve for about eight years before retiring.
The Belgian Malinois is one of four closely-related breeds of Belgian herding dogs and resembles the German Shepherd in appearance. Malinois are very active and thrive off of the unbreakable bond they form with their owner or officer. 
Training, training and more training
At U-M, Nike and Tank are USPCA-certified in explosive materials detection and patrol. They are able to detect more than 21 types of explosives and require constant training and practice to stay sharp. The K-9 unit engages in training for at least one hour per shift as well as at least one full shift per week (approximately 13 hours per week) and must re-certify twice a year. 
Being certified in explosive detection is among the most difficult certifications a K-9 can have, as the required passing grade from the USPCA is a firm 100%. This means that the K-9s have zero margin for error when being tested for the annual certification. Successful completion is dependent on continued training and the close working and personal bond between an officer and their K-9.
Community Outreach
In addition to serving as a partner to their officer and utilizing their strong sense of smell to protect communities from danger, it is perhaps their mere difference as an animal that helps bridge the gap between law enforcement and the community — especially with children. Not all police K-9s are friendly and social with people other than their handlers; however, Nike and Tank are trained and socialized to interact with community members.
"Kids just love coming up and knowing they can pet the police dog…I would love to say that Nike has had all of these successes out here, but his greatest success is building bridges with the community," said Officer Upton.
Nike and Tank both take part in community outreach activities including K-9 demonstrations at local schools and at various sponsored events like Shop with a Cop and the Purple Run. 
Life at Home
When their shift is over, the K-9s go home with their handlers. While each handler has a different philosophy for their K-9, Officer Upton said that both Nike and Tank typically have free range at their respective homes. Despite living with a co-worker, rather than a pet, Officers Upton and Dunny enjoy using the downtime at home to continue strengthening the bond with their K-9.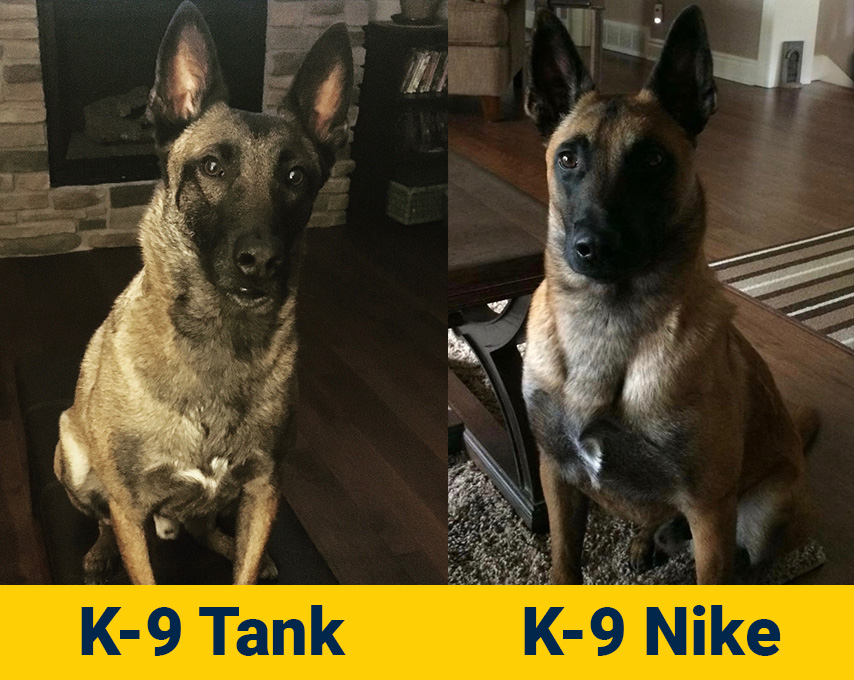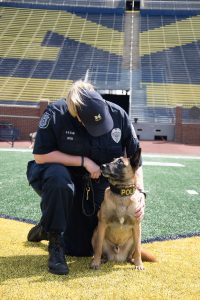 "Both Nike and Tank sleep in our bedrooms, on the floor," Officer Upton laughed. "That bond is so tight, the K-9s have to see us and be close enough to us. I bet if they could, they would both be in the bed — but they're not allowed on the bed."
Officer Upton shared that Nike constantly acts as a guard dog at home, letting out a short bark at each passerby, though the postal service workers get him going the most. Tank, on the other hand, often spins in circles when he gets excited, which is a common mannerism of the Belgian Malinois.
Overall, the companionship between an officer and their K-9 is a unique bond that, unlike other positions or careers, transcends the physical workplace and becomes a lifestyle. 
"I consider myself a huge team player but there is no better partner than my dog," said Officer Upton.
 Nike and Tank Quick Facts
Both have an official badge and badge number
Both are originally from Bowling Green, Kentucky
Nike's favorite treat is ice cubes, Tank's is chicken
For more information about the K-9 unit at the University of Michigan Police Department, please visit our website.