By Savannah Downs
I did not have to travel far, all but 25 minutes from my hometown of Brighton, Michigan to start my journey at the University of Michigan in the fall of 2015.  I came to U of M with some ideas of what I was interested in studying, consisting of political science, pre-med, and international studies. However, I soon found out that politics was a little too much of a messy and complicated game for me.  I fainted whenever I had to get my blood drawn, so pre-med probably wasn't the best option for me. And my passion was not completely fulfilled with international studies.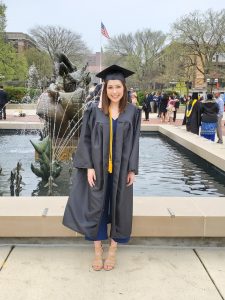 Nevertheless, my sophomore year I finally found it. Public health. The School of Public Health at the University of Michigan is a place I have had the honor to call home for the past two years.  Public health perfectly blended together my interests in the health of a community, creating policy that will greatly impact the health and well-being of a population, and caring about not just national health, but global health as well.
With a major in Public Health and a minor in Spanish, I now feel equipped to take on my after graduate plans and hopefully carry out effective change as a public health professional.  After graduation, I plan to take a gap year where I can put public health work into practice. I will be working on projects with the aging population, dementia, traveling to the Mexico-United States border to help families being separated, and other projects that are servicing the health and well-being of others. Then, I plan on applying to and hopefully attending a graduate program for my Master of Public Health (M.P.H.).  
During my sophomore year, I started working for DPSS as a fingerprinter, as well as helping the Special Victims Unit (SVU) and Community Outreach.  I could not have asked for a more gratifying student job than my time with DPSS. With fingerprinting, I was able to constantly meet new and interesting students, staff, and faculty at U of M.  I learned a lot about people's different passions, experiences, and connections to this incredible university. I really enjoyed my time working with SVU because I was able to use my public health background and student perspective to highlight the importance of framing interpersonal violence crimes as public health issues.
I also had amazing and encouraging supervisors to work with such as, Moe Burke, Paula Williams, Margie Pillsbury, Kaitlin Deslatte, Jeff Rowe, and many others.  Everyone at the department really made sure I felt supported, appreciated, and heard as a student employee. I always felt like my voice, perspective, and opinions were valued. Some of my favorite memories with DPSS are helping with the Take Back the Night events and helping create Snapchat stories around campus and at SafeHouse in order to spread awareness about interpersonal violence. Overall, my experience with DPSS has made me feel like I have a community of people here to support me and build me up in order to succeed at the University of Michigan.