"911, what's your emergency?"
Those are the words you'll likely hear when a dispatcher picks up the phone to answer your call for help. Dispatchers play an integral role in assisting callers and preparing first responders to run toward potential danger.
Each year since 1981, one week in April is dedicated to honoring the efforts and service of public safety telecommunicators, also known as dispatchers. This year, National Public Safety Telecommunicators Week is recognized April 14-20. To learn more about what Dispatch Services looks like at the University of Michigan, we sat down with the Dispatch Services Manager at the Division of Public Safety and Security (DPSS), Stacey Hall.
Q: What are the duties of a dispatcher?
Stacey: Dispatchers coordinate public safety and security units to respond to area emergencies as well as other service requests within the community. DPSS Dispatch Services is a unique 911 Public Safety Answering Point (PSAP) that serves the University community. Dispatchers coordinate Michigan Medicine Security, Housing Security, Museum Security, Parking Enforcement, University Police, in addition to local ambulance and fire services. The dispatchers at U-M also monitor a number of safety and security alarm systems, security cameras and radio channels.

 Q: What education or training is needed to become a dispatcher?
Stacey: Dispatchers require an enhanced skill set relative to keyboarding, answering multi-line phone systems, radio communications and multitasking in crisis situations. The ability to stay calm in crisis situations is paramount in this role.
An associate degree is required for the job classification of a dispatcher. Each dispatcher must complete a 16-week in-house training program upon hire, in addition to 80 hours of training approved through the State of Michigan 911 Commission within the first 24 months of employment. Continuing education and training are scheduled for each dispatcher annually beyond the initial requirements.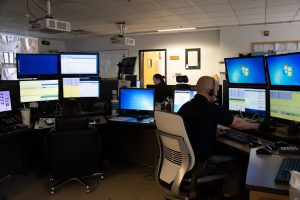 Q: What is something interesting that people might not know about dispatchers?
Stacey: Dispatchers field nearly 1000 calls daily, comprised of 911 emergencies and day-to-day operational calls for service. They talk to people they've never met and guide them through what may be very a difficult moment in their life over the phone. During those rare occasions when the phone isn't ringing, the dispatchers often laugh, share stories about their families and pets or other daily happenings. They are each other's support system through the ups and downs of the shift. They also enjoy cooking for each other in the kitchen — breakfast typically being a fan favorite.
Q: What should the community know about calling 9-1-1?
Stacey: If you find yourself in an emergency situation or perhaps see something that just doesn't seem right, never hesitate to make the call. Dispatch Services at U-M can be reached 24/7 by calling (734) 763-1131, dialing 9-1-1 from a campus phone or using an Emergency Blue Light phone. You can also reach DPSS through the U-M Public Safety App.
When contacting DPSS Dispatch Services, be prepared to briefly explain what your exact situation is. Sometimes in an emergency, it may seem like the questions being asked by the dispatcher are determining whether or not you really need help. In actuality, they are being asked to determine the level of help you need. If you are ever contemplating whether or not you should contact DPSS, make the call. You may have information that could aid DPSS in preventing harm and keeping the community safe.