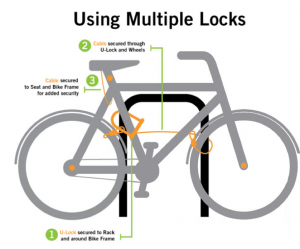 Nov. 21, 2016 – Thefts of bicycles from the U-M campus continue to be a challenge for our U-M community. So far in 2016, more than 70 bicycles have been reported stolen from campus locations.
When bicycles serve as the primary mode of transportation for many of us, we need to take every measure to ensure their security.
"Having my bike stolen on two different occasions, I realized that the security of my belongings really rests in my own hands," said Adam Kucharczyk, a U-M student.
U-M Police recommend use of U-bolt-type locks that are 15mm or thicker,rather than flexible cable locks that easily are cut by thieves. The U-bolt-type locks usually are made from heavy metal that take longer for thieves to defeat. U-bolt-type locks also are the best combination of security, price and practicality, whereas cable locks offer almost no security, but often are more affordable.
"U-Bolt locks have helped secure my bike from being stolen a third time, and in the end are definitely worth the extra cost," said Kucharczyk.
U-M Police also would recommend writing down the serial number and specific details about the bike (scratches, dents, stickers, anything that will make the bike stand out) so you can provide the information to police if your bicycle is stolen.
A free, online bicycle registration service is offered by DPSS on the Ann Arbor campus. The program is designed to help deter bicycle thefts and aid in the return of found bicycles to owners.
"When we recover a bicycle from a thief or re-sale shop, we can return it to its rightful owner if the bike is registered in our database," UMPD Lt Paul DeRidder said.
If anyone sees suspicious behavior in and around campus bike racks, please immediately contact DPSS at (734)763-1131 or text 377911.
[embedyt] https://www.youtube.com/watch?v=d88hVxWc8GM[/embedyt]